08
05
2013

I had so much fun with this project - it's so easy and rewarding and it got me all excited for many more future wall decorations.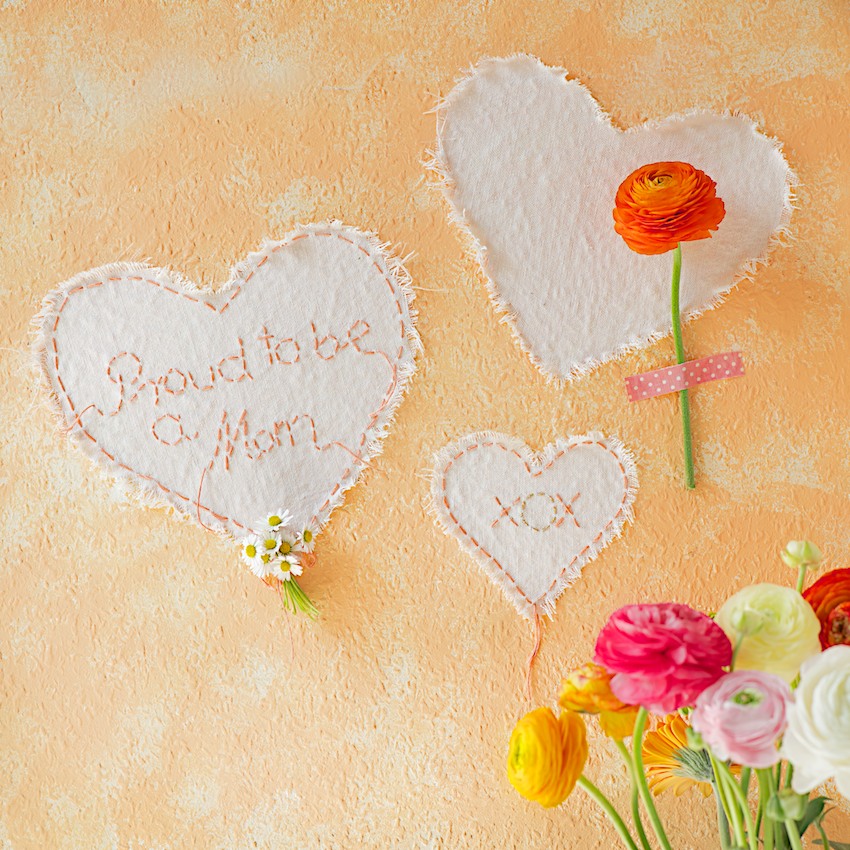 Imagine - you could do a whole landscape with this or a cute scenery with houses, flowers, animals...or letters, words or a quote!
All in your favorite fabric colors and patterns.
AND it is removable! - so it's perfect when you are renting.
I could even carefully peel it off my german "Raufasertapete" - this totaly outdated rough wallpaper Germans like to put on their walls.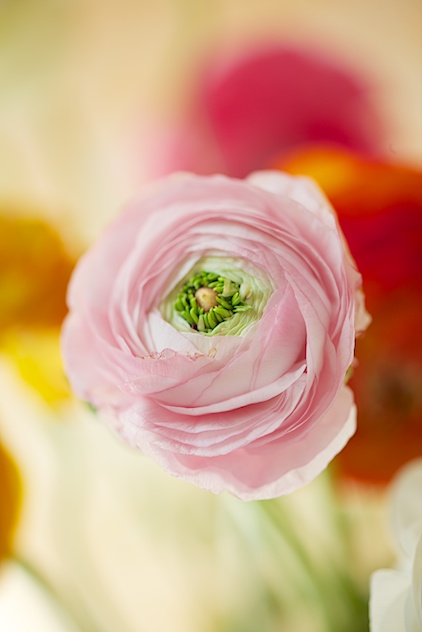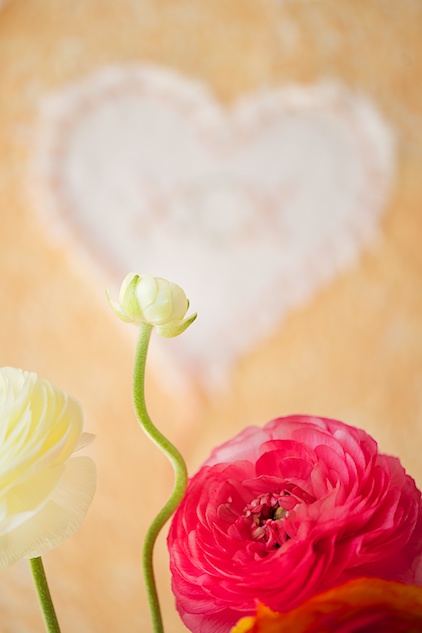 So - here is what I did:
First I prepared the all-natural glue because it has to cool down a bit before you can cover your fabric piece with it.
I used this recipe BUT (in case you klick over there) I DID NOT follow up the instructions on how to treat your fabric with it.
I only used as little of the starch-glue on the back side of the fabric as possible and it was totally fine. I also DID NOT put the glue on the front side of the fabric.
Here is the recipe:
Stir 1/4 cup corn starch into 1/2 cup cold water.
Then pour in 4 cups of boiling water and mix it up.
I let it gently boil for another 20 seconds and then let it cool down. Pour in a jar for storage.
These amounts make a lot of glue! You could make half of the recipe depending on the size of your project.
Since mother's day is around the corner, I printed out some heart shaped templates and transferred the outline with a pencil onto a piece of cream-white linen.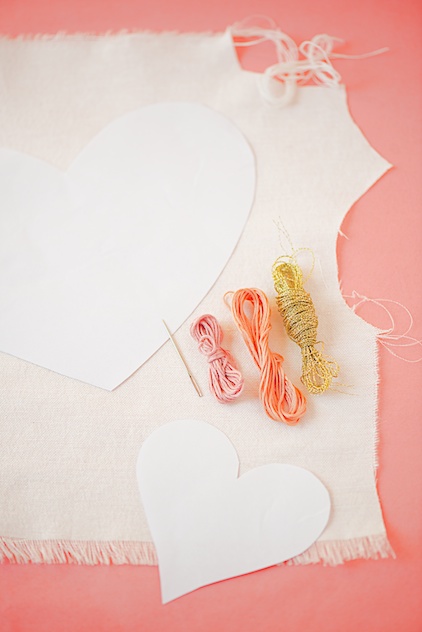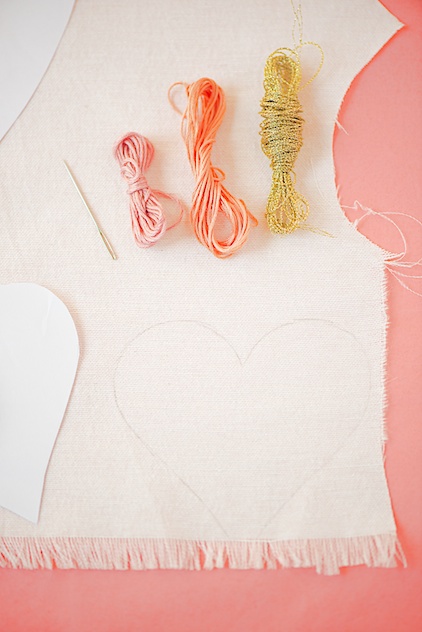 I cut it out and then went gently all around the edges with my thumb and index finger nails pressing together while moving around to fray the outer edges.
Then I drew a few simple letters onto the fabric and used some thread to follow my lines.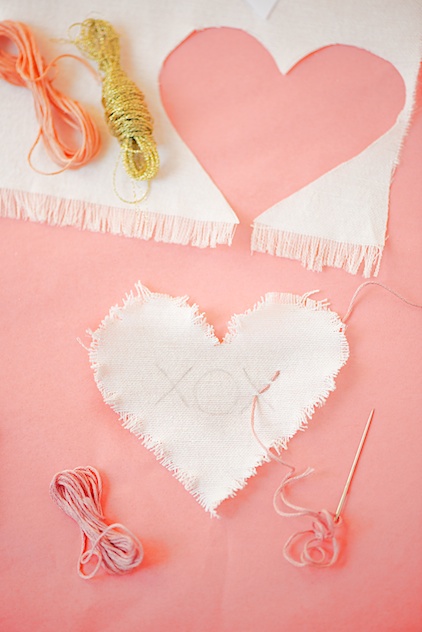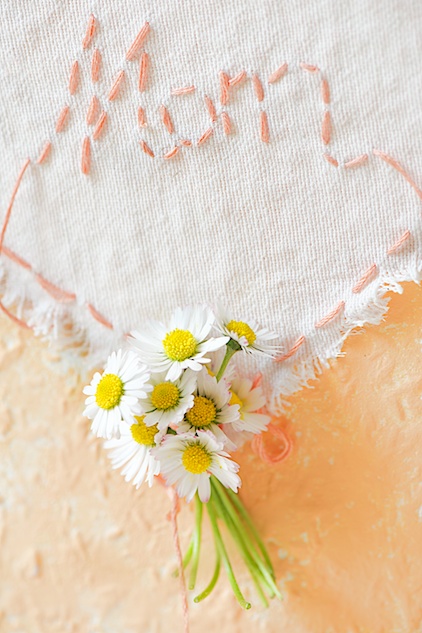 My two wonderful children make me really proud to be their mom.:)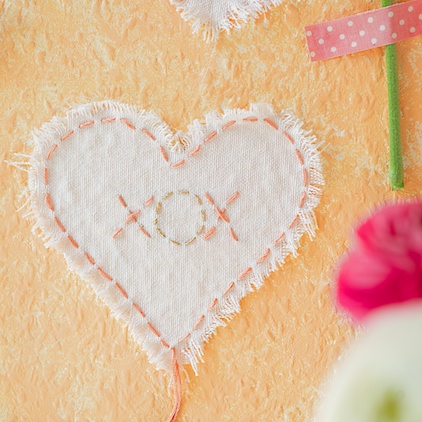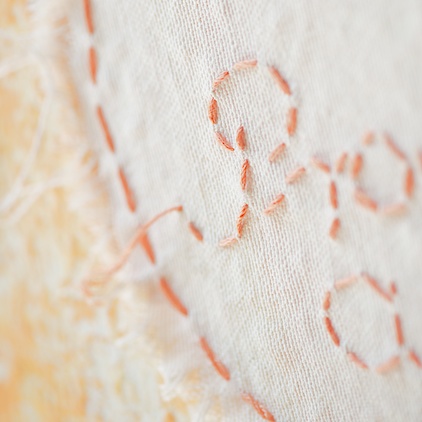 Meanwhile the starch-glue had cooled down and I used a medium size brush to cover the back side of my design.
As I stated above, I used only as much glue as i needed to cover the shape and it worked absolutely fine. In my opinion there is no need to use the glue generously or to apply a top coat.
Press the piece down firmly onto your wall, smoothing out any bubbles or air pockets.
You can easily peel it off the wall once it is dry, but I still recommend to first try it out with a little piece of fabric in a hidden spot on your wall.
That's it.
I can't wait to do another design...
Happy Mother's Day,
Anette
DIY-time is also me-time and is collected @Nic's today.
DIY
Trackbacks :
11 Trackbacks »