26
11
2013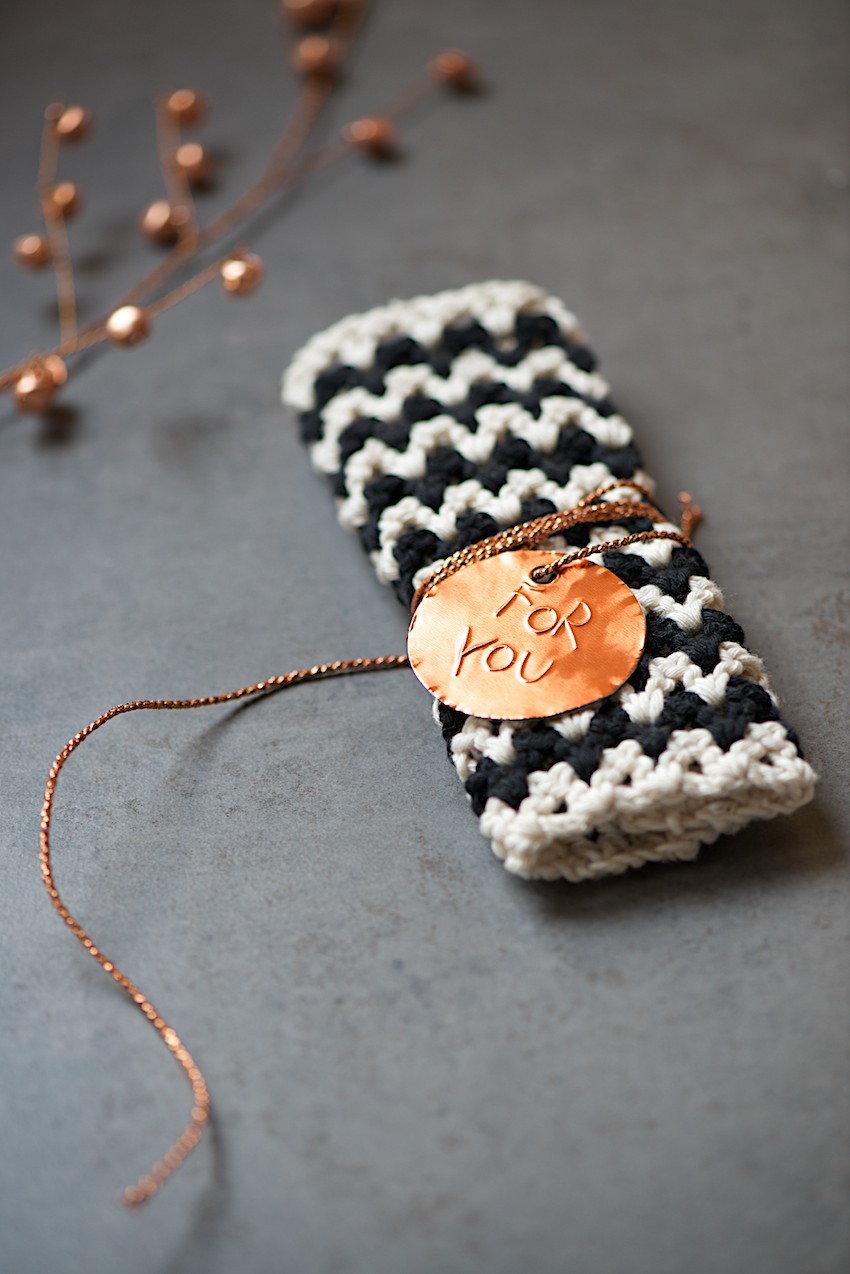 I have to admit: I was skeptical first.
A lot.
I never used a handmade dishcloth before.
I always hated a store brought dishcloth though.
They are so ugly, don't you think. And they never seem to come in the right color. They are always kind of ... off and just not a nice thing to look at.
So I thought I will give this trend of making your own dishcloths or washcloths a try.
And I love it! It has a great size, a bit of a rough, scrubby surface, soaks up liquid and overall just works very well.
Also - it is such a nice and very easy to make small project you can finish in a couple hours and I always like that.
Plus it makes a wonderful handmade, useful, stylish and pretty gift this time of the year - actually any time of the year.
A N D - like some of my other DIY's - it's made with a TRICK. YES!
O.K.!!! Enough pro arguments, right?
Would you like to give it a try, too?
Here is what you need:
100 % Cotton yarn (so you are able to wash them on hot) in two colors - you could even use organic cotton!
A crochet hook in the right size for the yarn you choose.
I personally tend to crochet or knit fairly loose but I like these dishcloths to be in a tighter stitch with not too much air in-between the stitches.
So I made sure, my hook wasn't too large for my yarn.
Start by: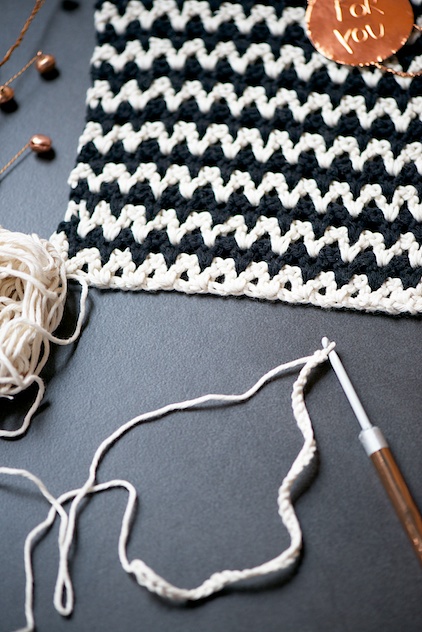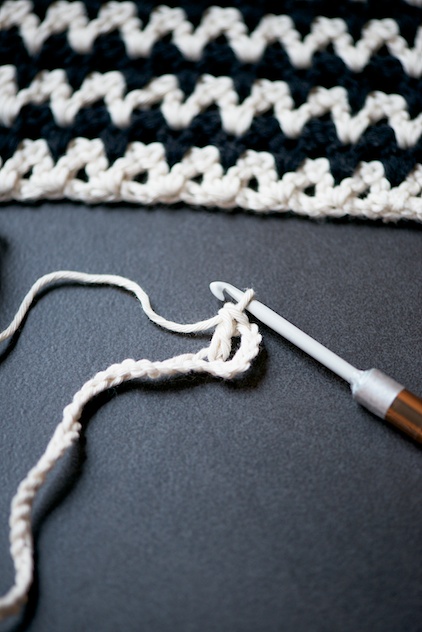 Chain 39
1st row: DC in 6th chain from hook. Chain 1. DC in the same stitch you did the first DC - this is then called a V-stitch. Skip 2. V-stitch in next. Skip 2. V-stitch in next...until row is finished. DC 1 in last stitch.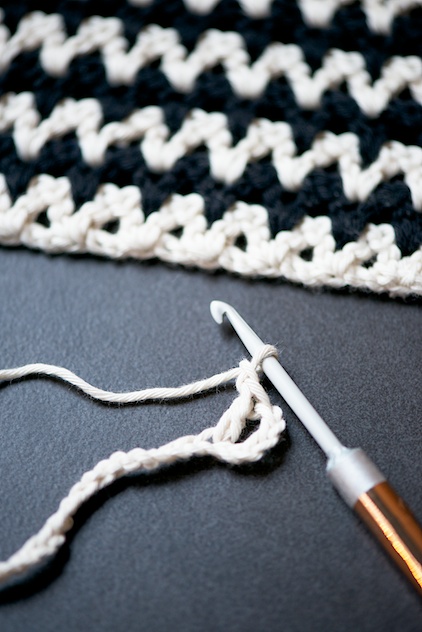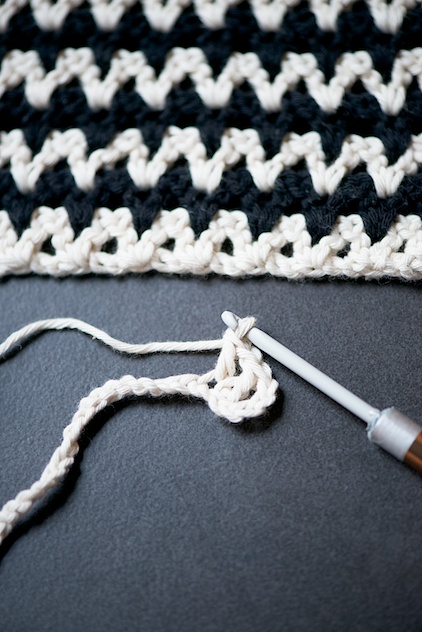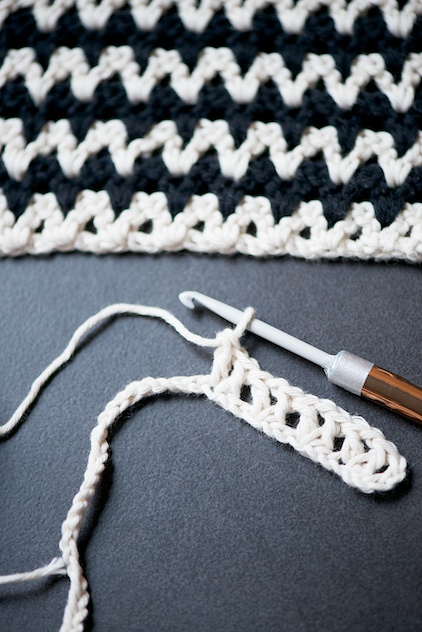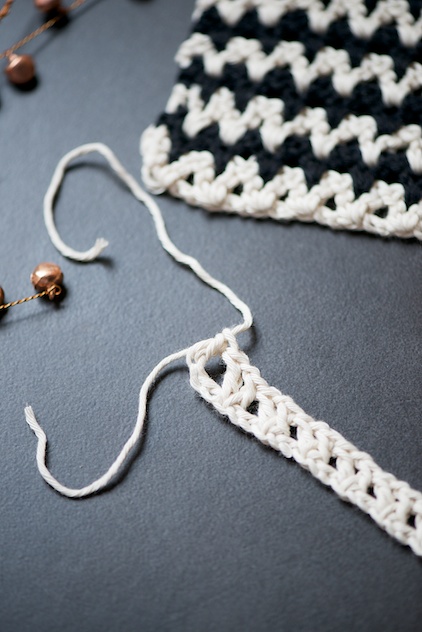 NOW FOR THE TRICK: Finish off that row and cut your yarn! DO NOT TURN YOUR WORK!
Just start again where you have started row 1 - now with your other color.
Row 2: Join yarn in stitch immediately before first stitch from V-stitch from row below. Chain 3. V-stitch in the chain-1 space of the below V-stitch. Skip 2. V-Stitch in next. Skip 2....Continue across. DC 1 in last stitch. Finish off. Cut your yarn. DO NOT TURN YOUR WORK!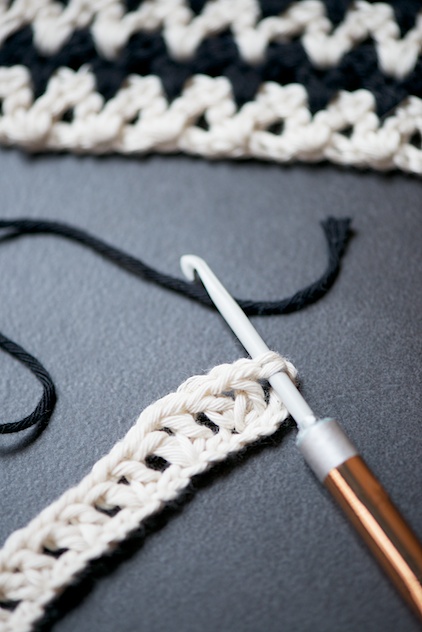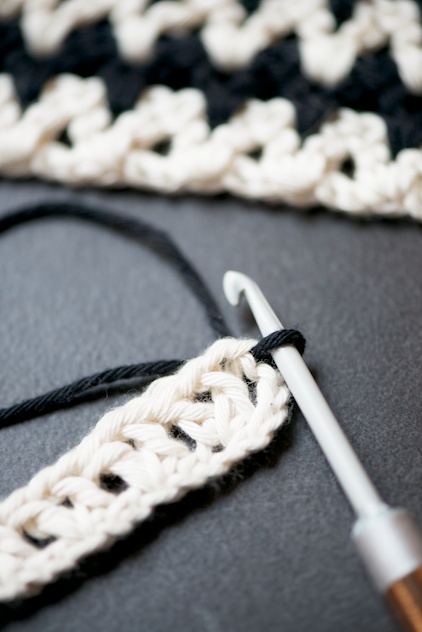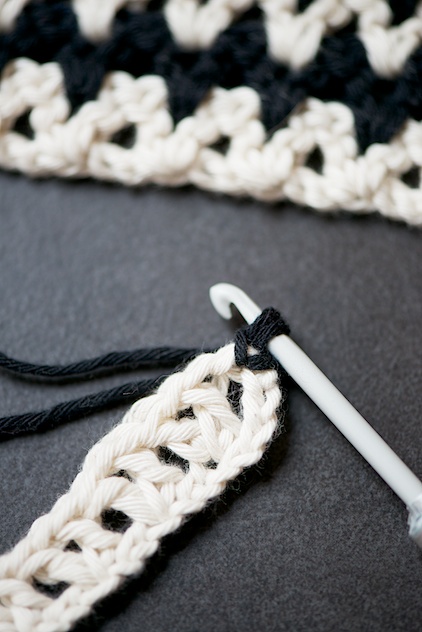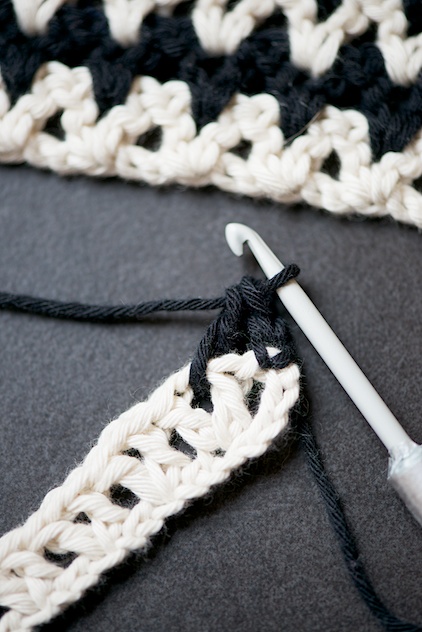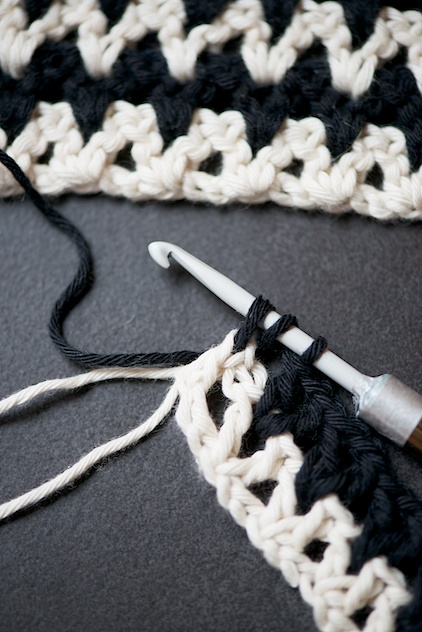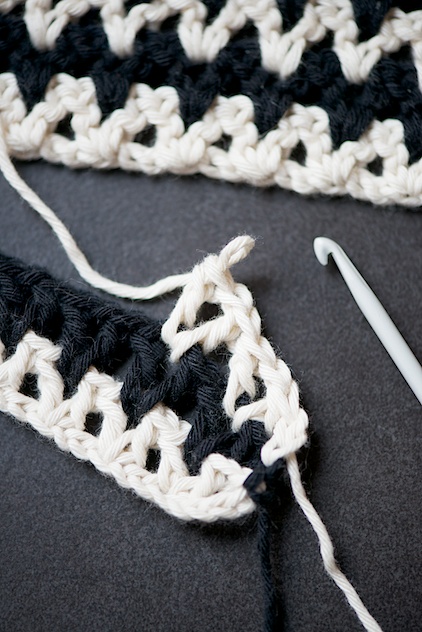 Row 3 to 15: Repeat row 2
Done!
Ok - there ARE a lot of ends now...You can weave them in or - if you are lazy or impatient like me - you just tie cute little side tassels by grabbing always 3 of the endings and placing an overhand knot.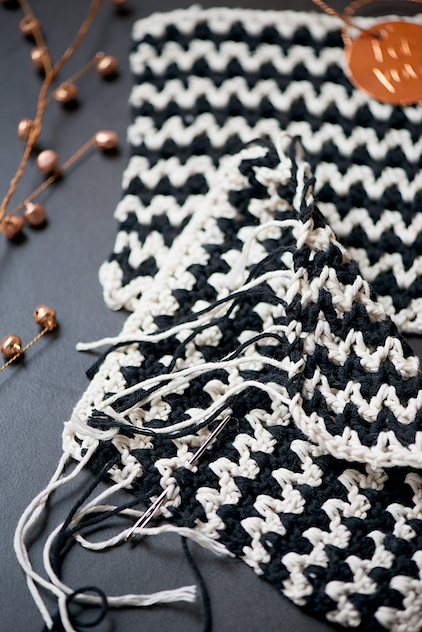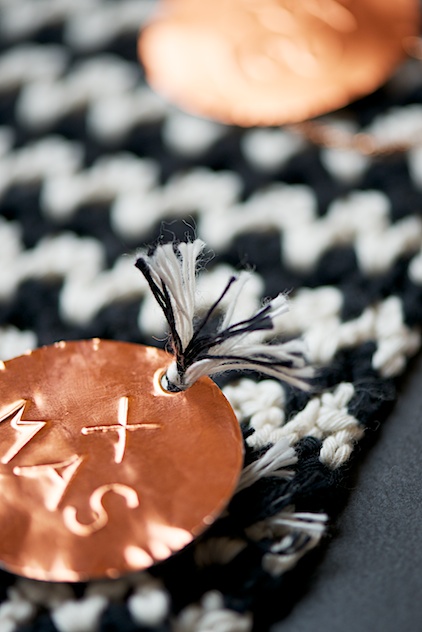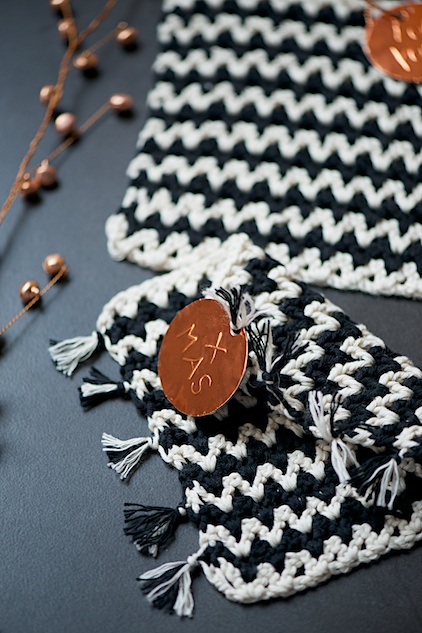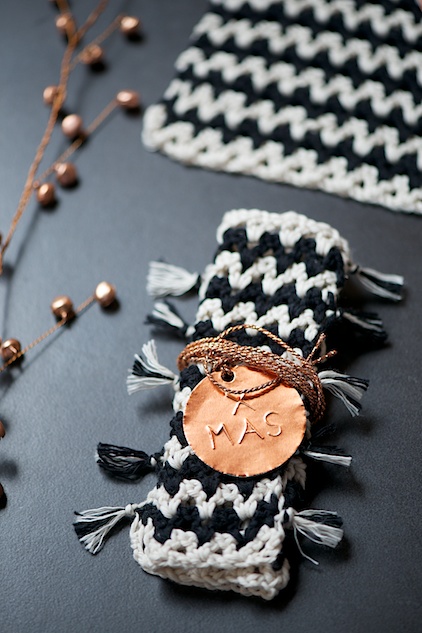 My inspiration came from here.
As with all of my DIY's please ask - preferable by using the comment system instead of e-mail - if something is unclear to you. That way more readers can learn from your question and my answer. I am happy to help.
If you like, here are all of my DIY's.
Happy Day,
Anette
P.S. There is still time to join my Give-Away!
And it is Creadienstag today.
P.S.S.
You can find my rosé-gold jewelry line here in my own shop or my other lines at Etsy and DaWanda
If you like to further connect there is more lebenslustiger on FB, Twitter, Tumblr, Instagram and Pinterest!
Thanks so much!!!
Categories :
DIY
Trackbacks :
17 Trackbacks »