08
07
2014

Well - DIY-wise I will stick around my kitchen for a few more future projects.
I crocheted already these Chevron dishcloths which were a lot fun to make and I recently knitted these kitchen towels.
I got quite a few comments on both projects where people said the cloths and towels were way too nice to be used in the kitchen.
I do not agree at all!!!
I am not much of a person who likes kitchen work or house cleaning in general. Just think about how often you wipe the counter every day!?
Especially if you have kids like we do it feels like a thousand times every day.
I think it's only right then to use the prettiest and nicest - and environmental friendly - cloths available for such tedious tasks because it makes them a little less dreadful! :)
The simple cotton yarn is usually really inexpensive and you get quite some cloths out of a skein which will last for a very long time.
And really - the more you use these 100% cotton clothes and towels and the more you wash them the better and more absorbent they become!
Speaking of the yarn: Make sure you get cotton yarn without any mercerization treatment because that works best.
We got so used to these handmade cloths and love working with them in the kitchen that we don't like the store brought ones anymore!
But since they get thrown in the laundry every few days, we were always short on new clean ones and I decided to make a few more dishcloths.
Those little cloths make such a great project for every spare minute you have. You can easily get it out for working a few rows and store it quickly away if you need to. They also travel well as a handwork project and if you use several colors you never get bored starting a new one.
I got about 11 different colors Linea Pura from Lana Grossa which comes in a fabulous color palette and on top of it: it's organic!
Such a pretty yarn and I decided to try a harlequin pattern in tapestry crochet with it.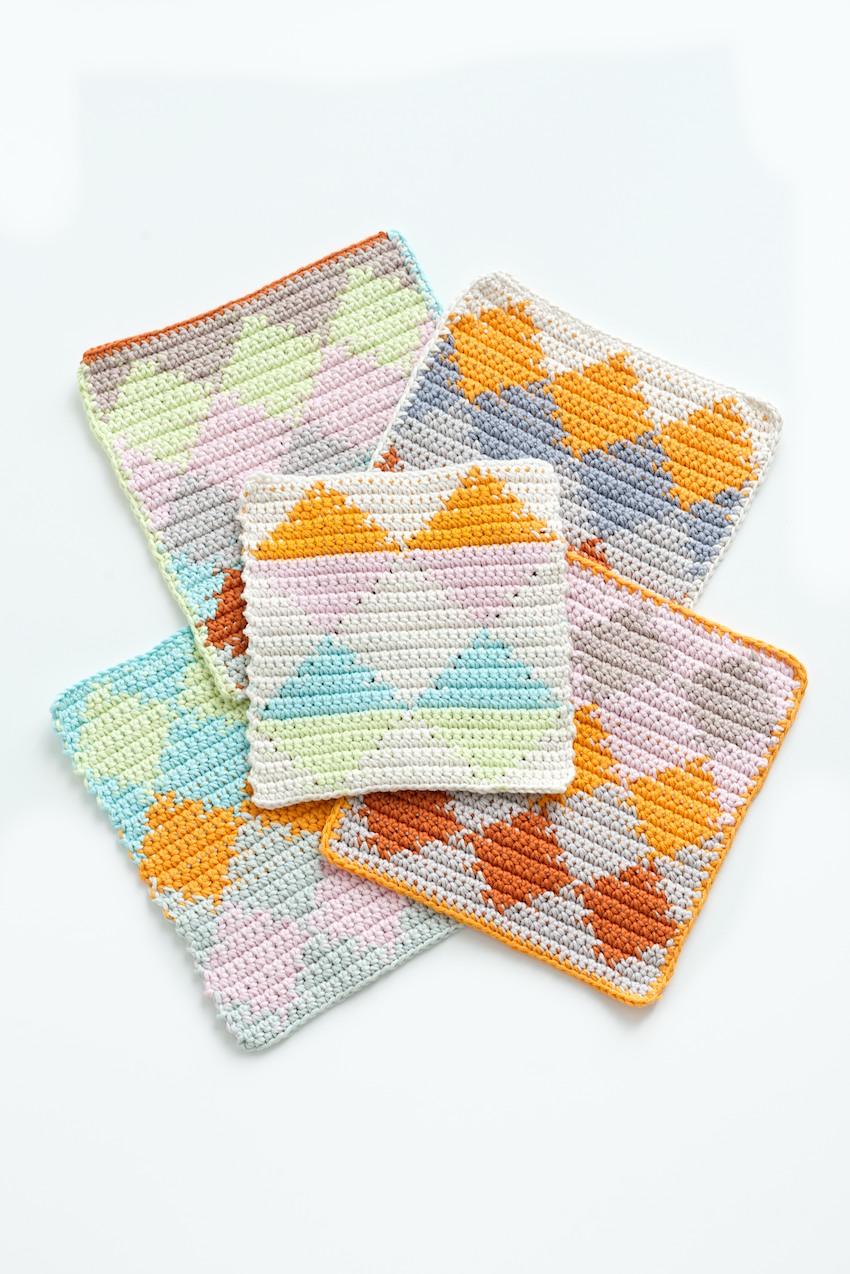 I have never done this technique before so I was excited to learn something new. There are several video tutorials on tapestry crochet on You Tube.
Basically you always crochet with two or more colors of yarn traveling the other color always along "inside" the stitches.
As far as I know there are two different tapestry crochet techniques.
One, where you never turn your piece and work the back row just back from left to right. I didn't try that technique because I couldn't imagine being able to crochet left handed fast but this technique makes very clean and even patterns I believe. So I might try it in future.
I kept it simple for now and the technique I used is just single crochet stitches front rows and back rows following a simple pattern I drew onto paper.
That way the pattern isn't as sharp with clean lines but honestly - I don't mind! Look at these black and cream cloths I made and I think you know what I mean.
It looks a little bit like patches, right?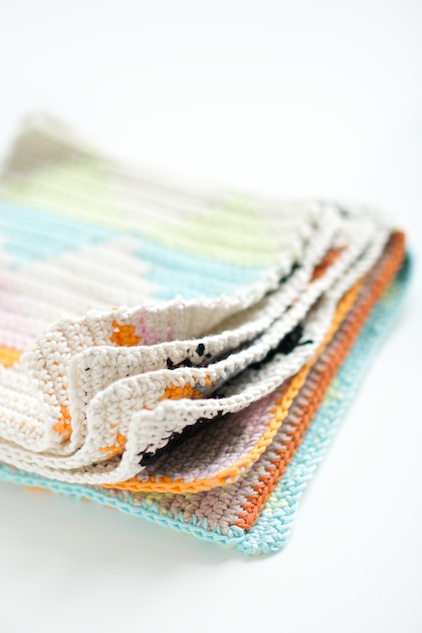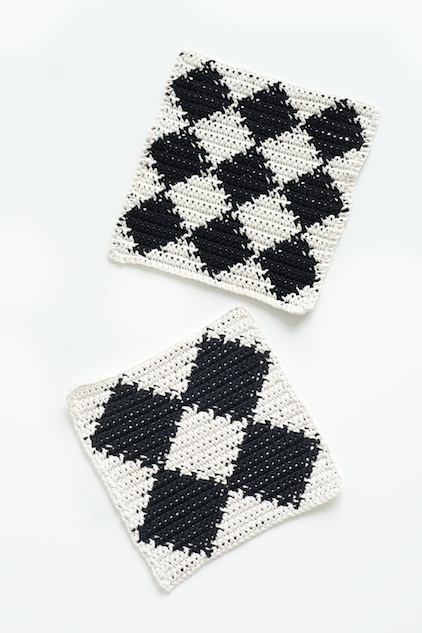 After some trials I figured out that I like my cloths most if they measure about 20x20cm.
So my patterns are around 30+ stitches and 30+ rows. But you can easily adapt the patterns for your needs and make them larger or shorten the rows for rectangles.
And of course you don't need to make a dishcloth! :)
You can use the pattern to make a pillow cover or a blanket or whatever you like. Or you could draw your own pattern or motif.
Maybe Chevron :)
That's the great thing with tapestry crochet. Endless possibilities!
Because you always have the second yarn traveling with the stitches - theoretically you could even have several different colors traveling in a row - this technique makes a more dense and firm cloth with more substance than the slightly airy Chevron ones I made before.
My husband likes the Chevron cloths better for that reason but I like the tapestry ones too.
So - let's get started!
Note:
- You ALWAYS chain 1 at the beginning of EACH row!!!
- The charts show FRONT and BACK rows.
- The first chain row is NOT on the chart.
Choose a chart and chain the number of stitches on that chart.
Harlequin Pattern 1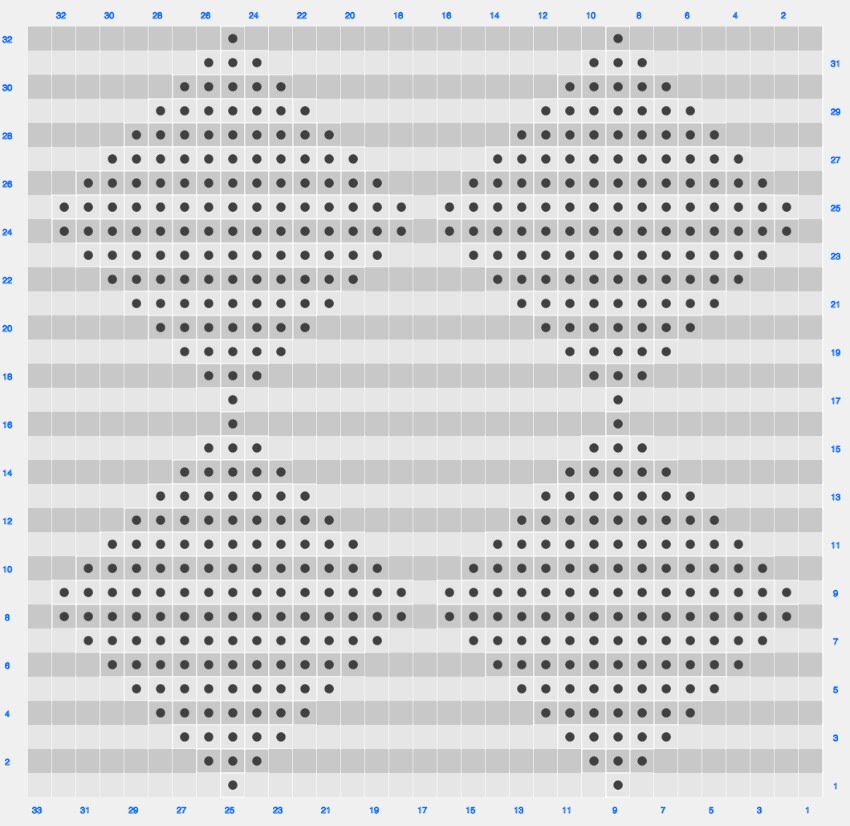 Harlequin Pattern 2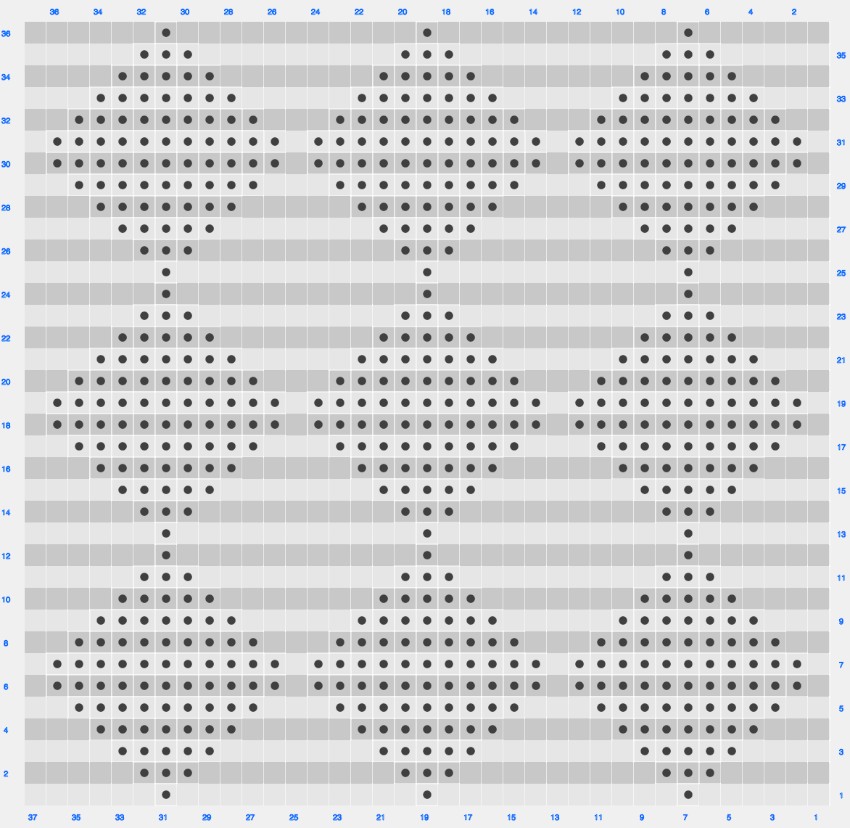 Circles Pattern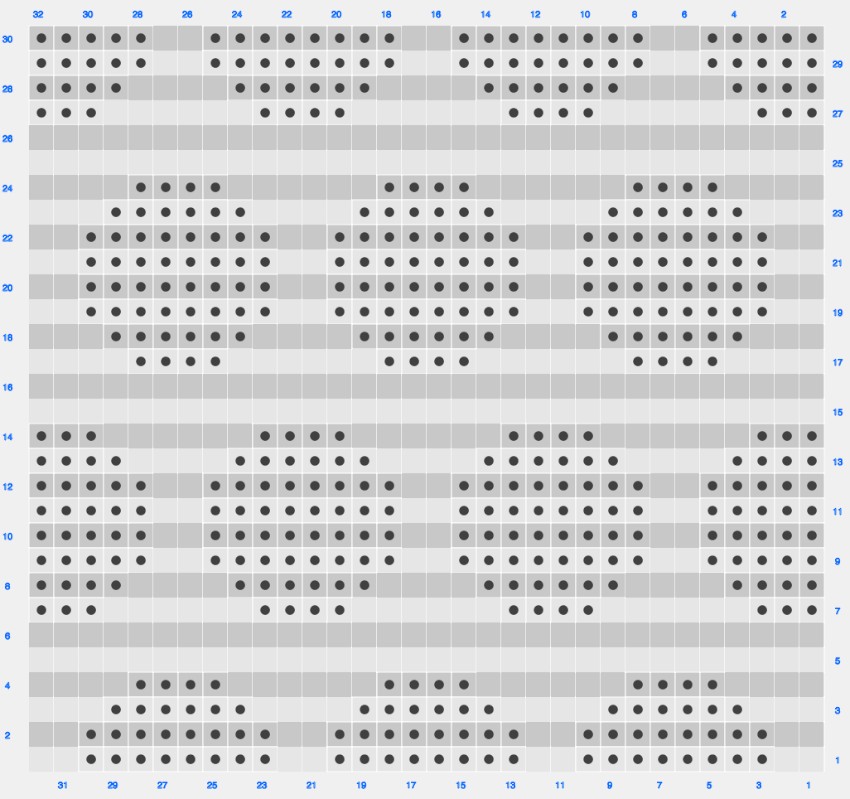 For the picture tutorial I have chosen Harlequin pattern 2 so I have to chain 37 stitches.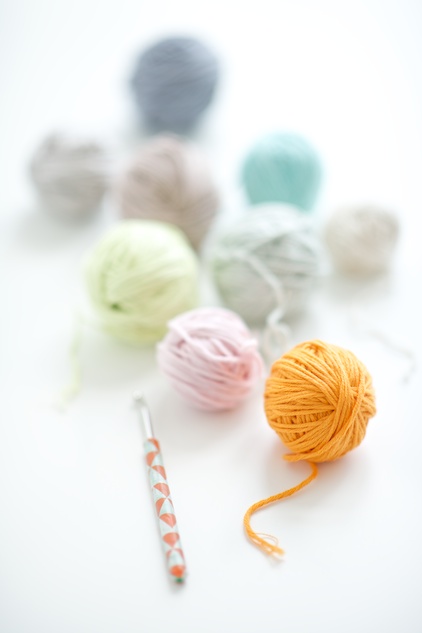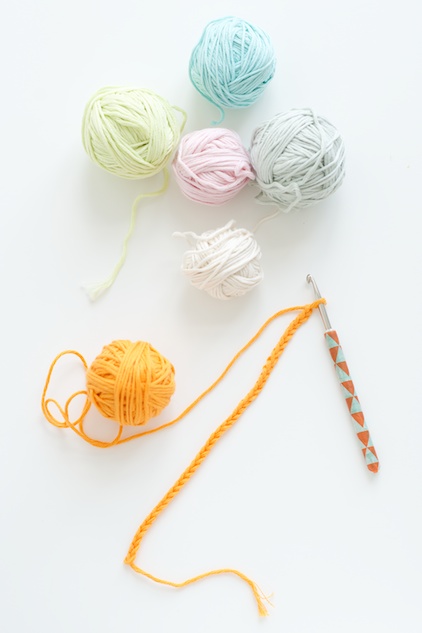 Now...
Please click on "Continue reading "Tapestry Crochet Dishcloths" for the full picture tutorial!
Continue reading "Tapestry Crochet Dishcloths"
Categories :
DIY