15
05
2014

Last weekend we celebrated the confirmation of our son Olv.
It was a really lovely day with family and friends and plenty of wonderful delicious food.
I ate so much, that I planned to eat nothing this week to recuperate from that feast. :)
But - oh well - hard to stick to those kind of plans!
I had the longing for something fresh with plenty of citrus...
I remembered a recipe I came across some weeks ago on my Pinterest:
A Lemon-Pull-Apart Bread which I really wanted to try out because I still love to bake this Garlic&Herb Pull-Apart Bread and a variation with lemon sounded delicious.
The Pinterest recipe was unfortunately a big disappointment. It didn't taste good at all, was complex to make and didn't pull apart.
First I was frustrated but I still had the imagination that the idea of a simple and easy to make lemony bread was good so I went back and made my own recipe.
Et Voilà - it turned out great!!!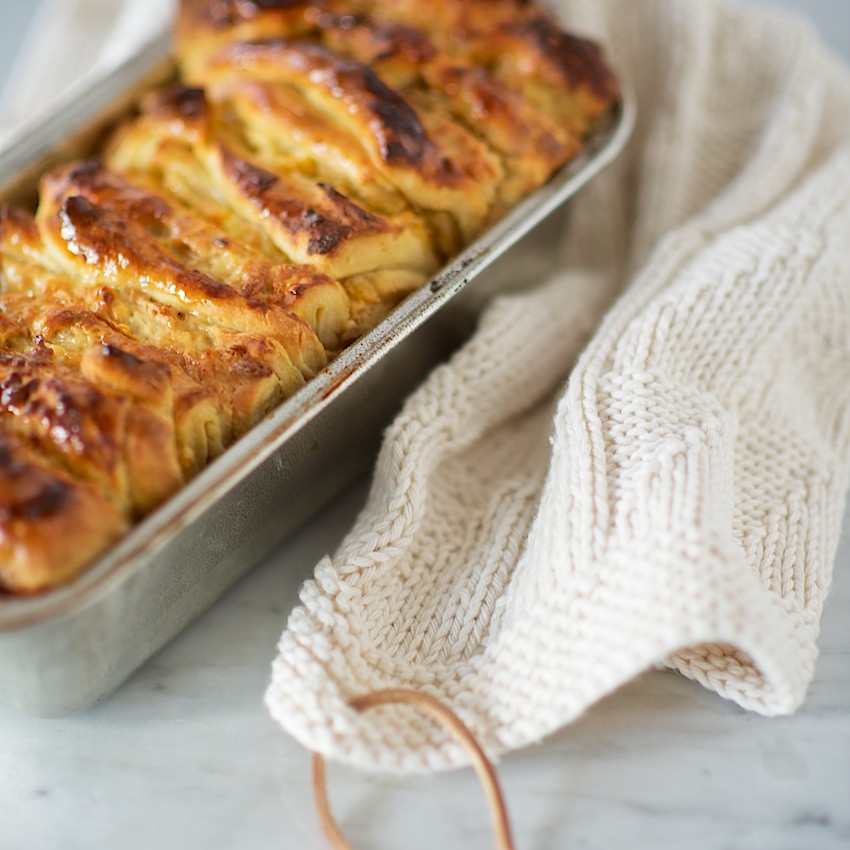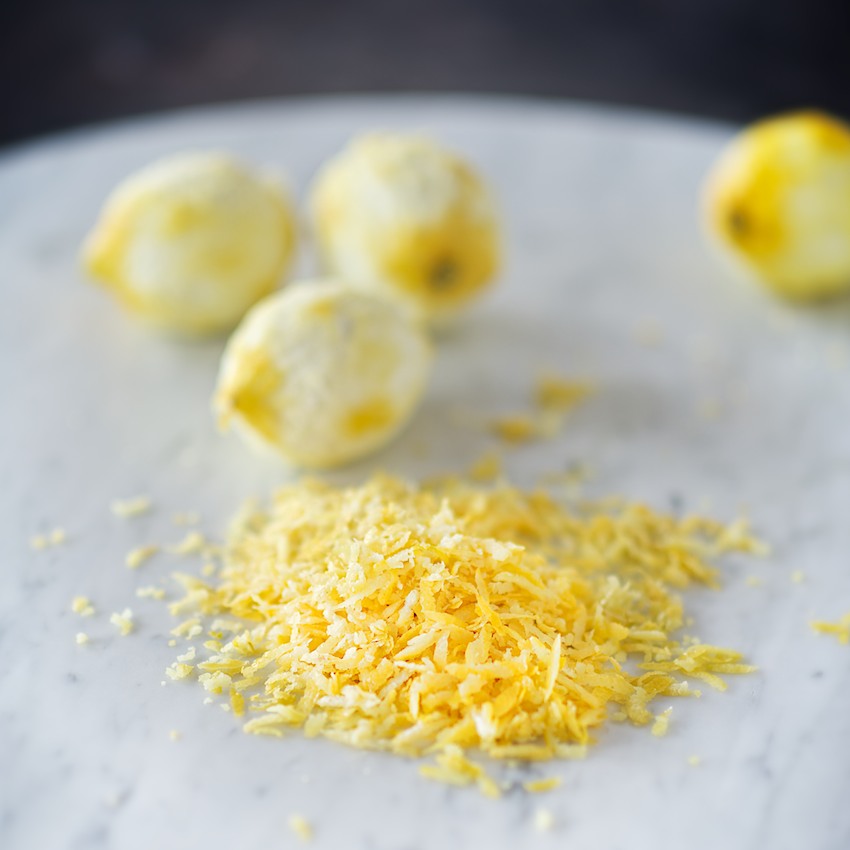 It tastes super aromatic, fresh and summery - warm from the oven or even a couple days old. Because of the filling it stays juicy and a bit chewy.
And it pulls apart perfectly!
We liked it pure or with a little bit butter - sweet or salty - just to your taste.
It would pair great with seafood.
Here is how I did it:
2 3/4 cups all purpose flour
1 teaspoon salt
1/4 cup sugar
1 envelope dry yeast
Mix all ingredients together in a bowl.
1/3 cup milk
2 ounces butter
Heat milk and butter until butter is melted.
Stir into the flour mix.
Grate 3 smaller organic lemons and 1 organic orange and keep the zest for later
Press 2 of the lemons and the orange and add the juice to the flour and yeast mixture.
Kneed to an elastic dough.
You might need to add some more warm water or more flour because every fruit is different in size and gives a different amount of liquid and therefore you need to adjust to your needs.
Let the dough rise for about 1.5 hour in a warm place.
Then roll it out to approximately baking sheet size.
Make the filling:
4 ounce cream cheese
zest from the 3 lemons and the orange
juice from 1 lemon
about 2 tablespoons powdered sugar
mix all ingredients of the filling and spread evenly on the rolled out dough.
Grease a loaf pan.
Now cut the dough in five strips (cutting from the wide side of your piece)
Fold each strip up like an accordion and stack it neatly into the loaf pan.
Let rise in a warm place for another half hour then bake at 350F about 45min until it's golden.
Eventually cover with baking paper half way thru the baking time to avoid that the bread turns too dark like mine did a bit.
After baking let cool down a little bit and then brush with some soft butter to add shine.
That's it! If you are trying this it would be great if you could let me know if it worked or if something needs to be changed or added.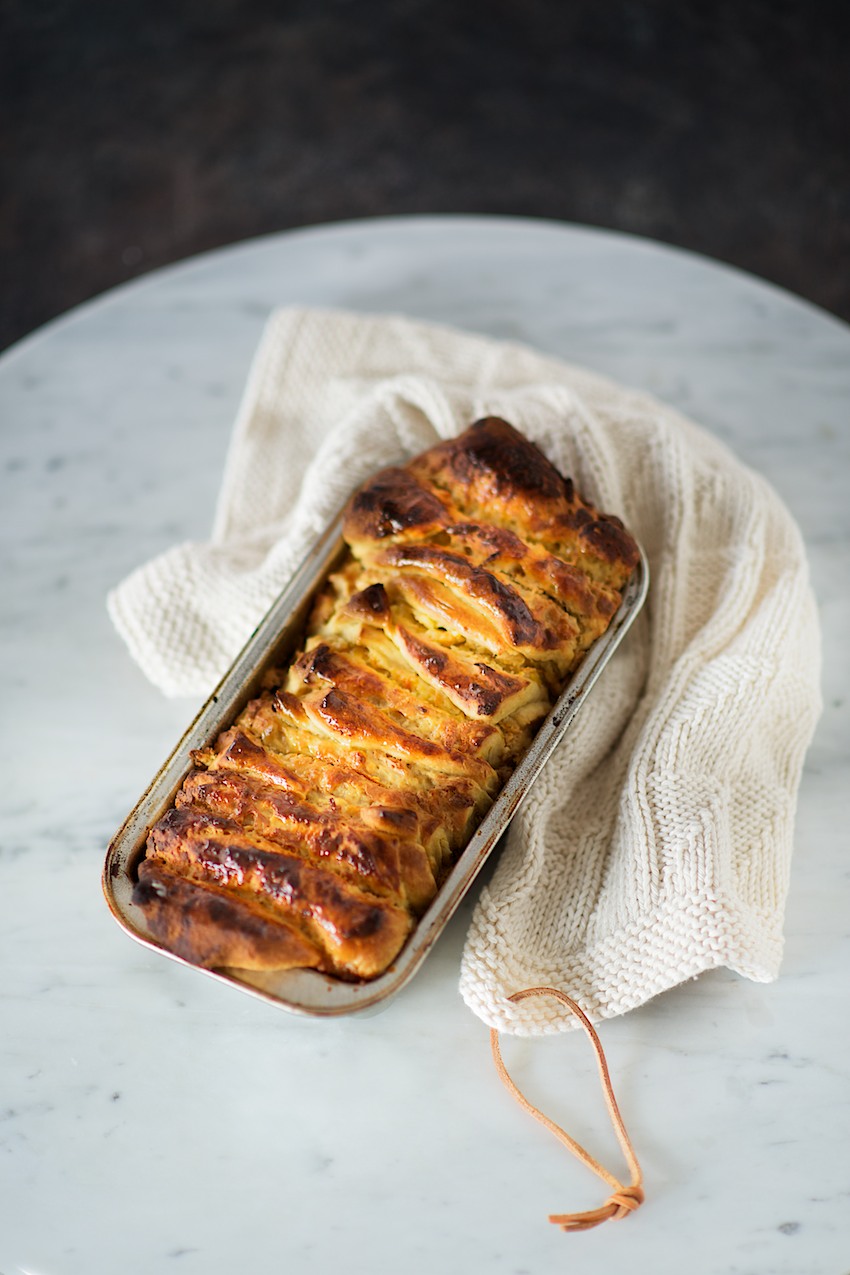 Bon Appétit and Happy Day,
Anette
Continue reading "Lemon Pull-Apart Bread"
Categories :
DIY
Trackbacks :
13 Trackbacks »