09
05
2012

For Christmas I needed a really fat nail - for the tree.
Where every other tree has a nice thinning tip, our version of a tree had a trunk-ish branch of considerable girth.
I felt sorry.
For the tree.
Because of that it actually became our christmas tree - despite its - uhhm - handicap. In my time before motherhood an inconceivable notion of sentimentality - it was either: "do or die" or "kill or cure". Now, after years of motherhood: one mellows out a lot...Does that sound familiar to you?
So I was all: "awww" - and this tree became our tree. The fat nail from the local country store was rammed as a replacement tip and was the perfect pin for a big star made of willow. It looked great. Indeed awesome. I was delighted and impressed - especially by that big nail.
Now wouldn't that kind of nail also make a great holder for my necklaces? Pimped with color, Washi-tape and crocheted copper wire flower the nail and his friends are now spreading glee and joy amongst my favorites.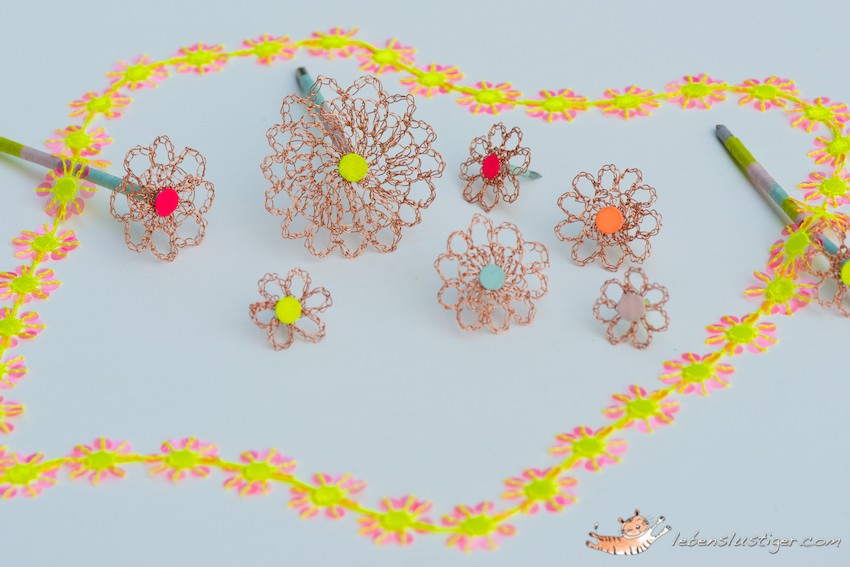 I only had copper wire, a remnant of another project, yet this would also work with brass or silver wire. It's a bit unusual at first to crochet with stiff wire but you will quickly get the hang of it. I recommend getting familiar with the concept of crocheting a flower and then go with the flow while crocheting one with the wire - meaning it's not too important to completely stick to the pattern and worry about every stitch because you anyway will be able to bend the flower nicely into shape after you are done.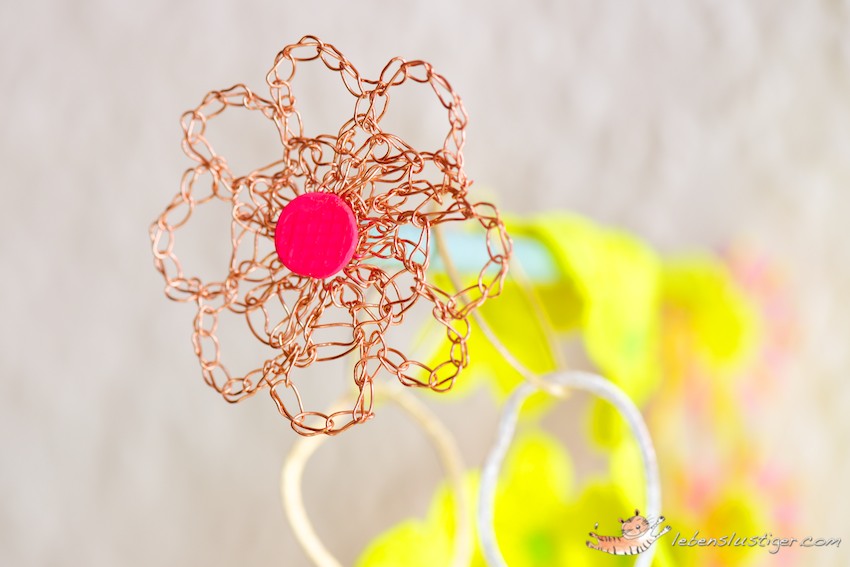 Make the beginning inner circle of the flower really small so it will later slip tightly onto the nail and stays in place. The intertubes are full of how-to's (here and here) for crocheted flowers. I think, they actually even sell soft wire for knitting or crocheting in your local craft store these days. And of course you could also use an other exotic material for this idea: wool! If you want to leave smaller marks on your wall use thinner but shorter roofing nails. They have nice wide heads.
I also love these mini flower nails!
XOXO
Categories :
DIY