29
01
2014

Do you have an important goal for 2014?
It's quite easy to come up with goals especially in the beginning of a New Year but apparently it's difficult to not lose track of it once the daily routine starts kicking in again and gets the better of us.
We often just simply forget about our goal because it's "out of sight".
Choosing a symbol like an arrow is a great way for a visible reminder. And what is more visible than something around your wrist, right?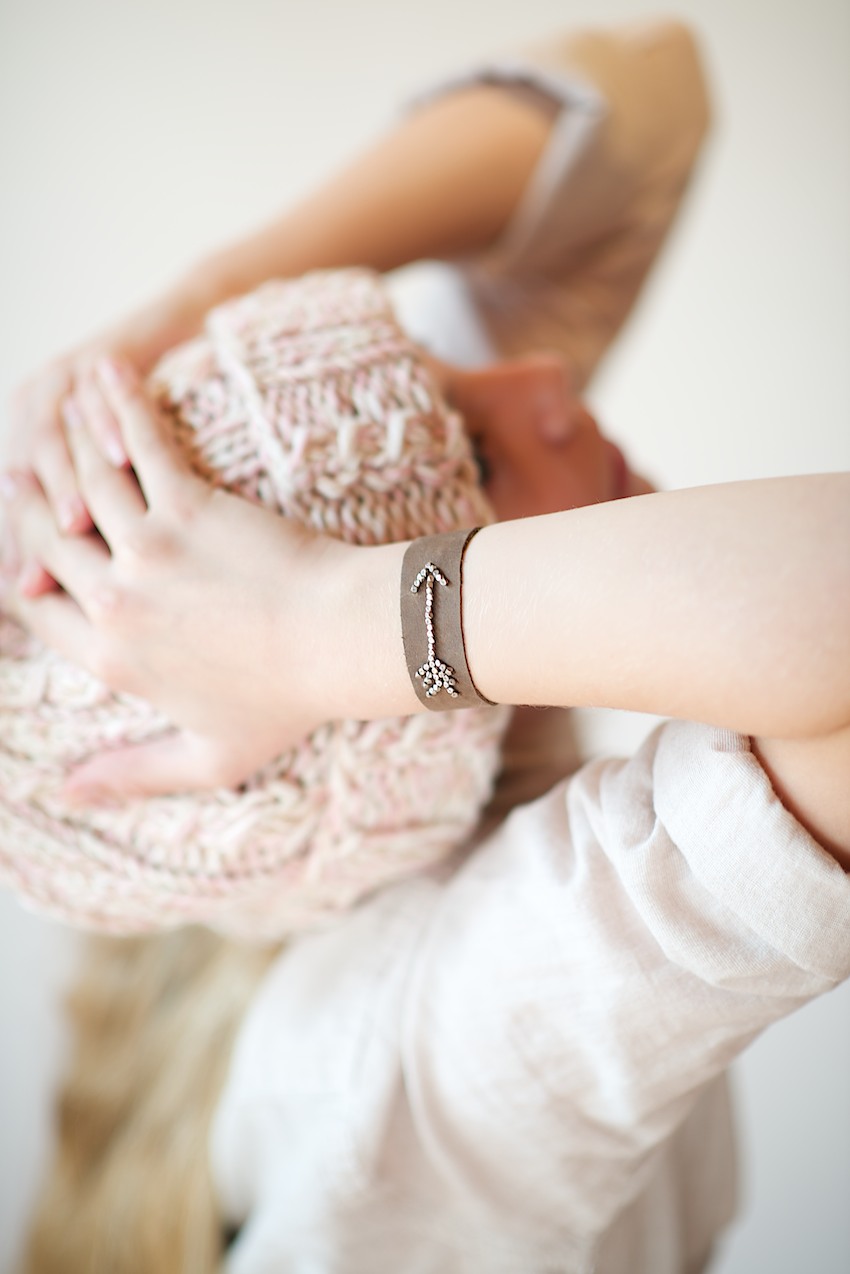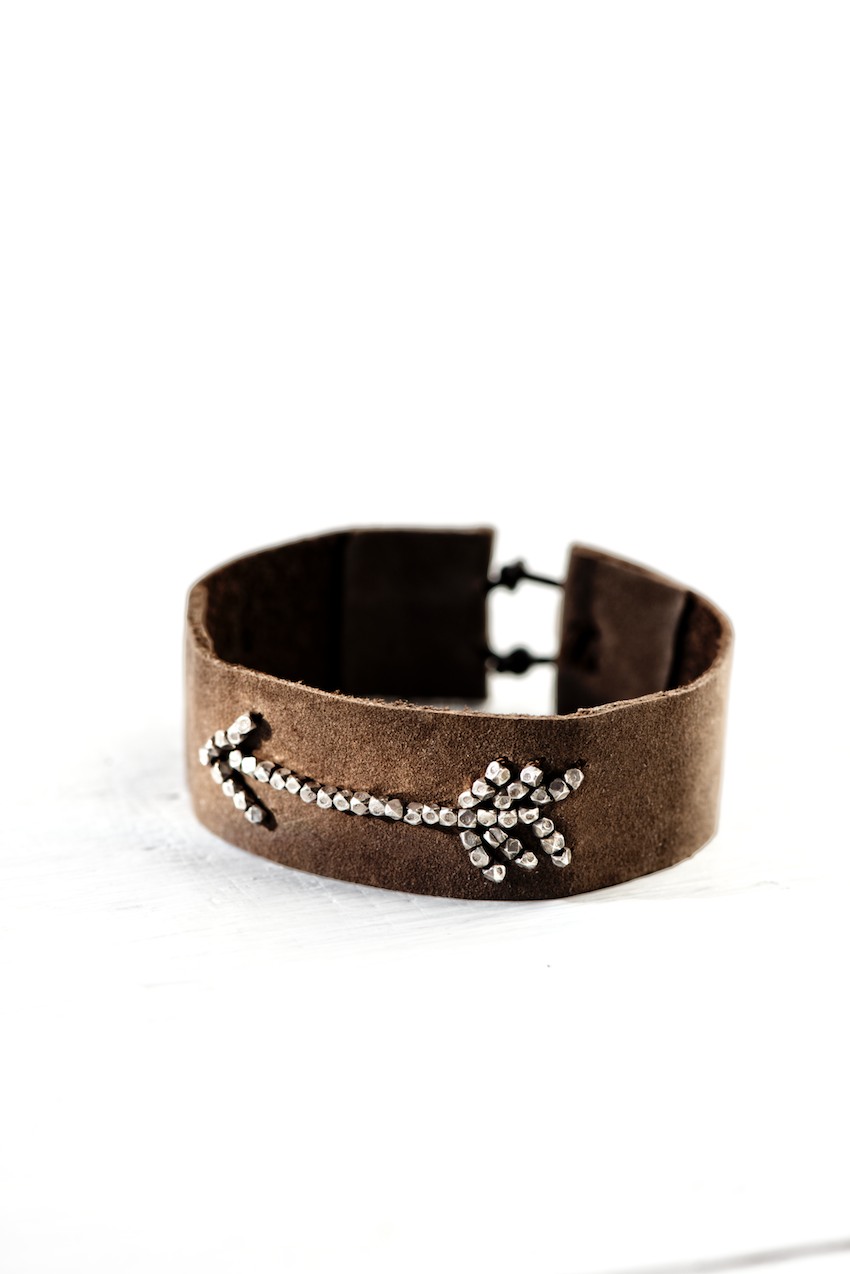 I really like bracelets and rings for this reason - it's nice that you are actually able to see what you are wearing.
Of course you can also choose any other symbol that speaks to you.
Here is what you need for a leather bracelet for a wrist size 6,5'' or 16cm. Please adjust the length of the leather strip to your need.
The bracelet is supposed to tightly fit around the wrist so it is snug.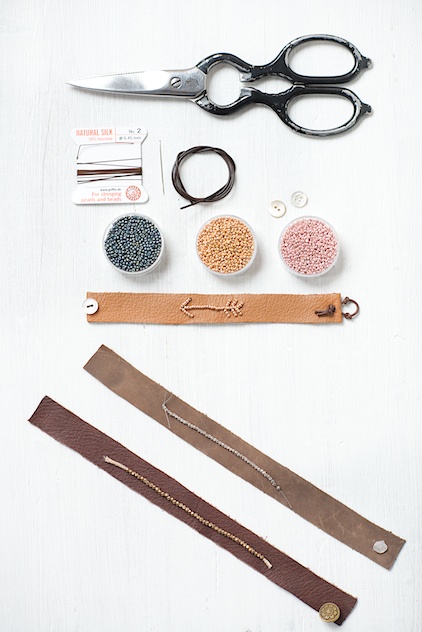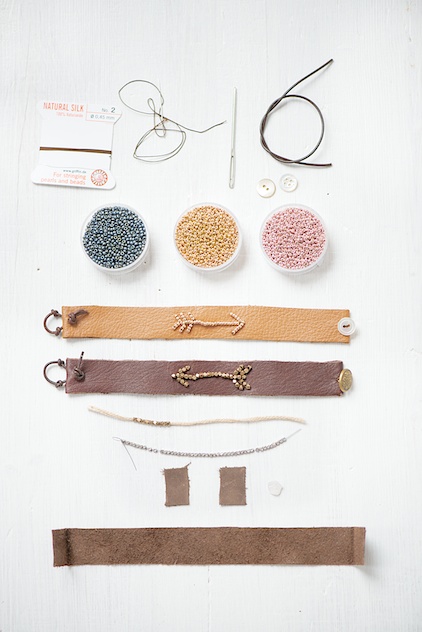 - A strip of leather - mine was about 22.5cm long, 2cm wide and 1mm thick.
- 25cm of leather cord about 1.3mm diameter
- A little button or a larger bead as a closure
- Scissors
- A punch to make small holes or a big sewing needle for just poking the holes
- Glue (I used a multipurpose Gluestick which stated leather as one of the materials and it worked well)
- Thinner beading thread or any other strong sewing thread
- A sewing needle that fits the thread and through the holes of your beads (The leather lady gifted me with a special leather needle - YES, she had a really GOOD day...BUT I lost it (bummer!!!) and therefore just took a regular small sewing needle and it worked well)
- Little beads for sewing your symbol. I had so called Miyuki beads from the craft store (the shiny golden ones on the cognac leather) and also some of my beloved facetted spacer beads. (I get a lot of questions from readers asking about these facetted metal beads. I bought mine at a bead shop in Santa Barbara, but that shop went out of business. You could try Rings&Things or Baubles&Beads or this Etsy Shop.) Though I found, that the smaller, more regular beads worked better and more accurate if you are aiming to sew a symbol and not only a single line of beads.
Start by cutting off two 1cm pieces of your leather strip.
Then make three small holes according to the picture about 2cm away from one end. Looks like a little astonished face, doesn't it? :)
Be careful if you use a big needle for poking the holes. Go back and forth to make the holes large enough for the leather cord to fit through.
Thread your cords through the holes making the two knots on your way. Try to estimate the size of the loop to fit your button.
Pull your cord until the knots are close to the strip and make another overhand knot with the endings of the cord. Cut the endings of the cord.
Now bend 2cm leather on each end of your strip and glue them together back to back. The leather cord closure sits right on the edge.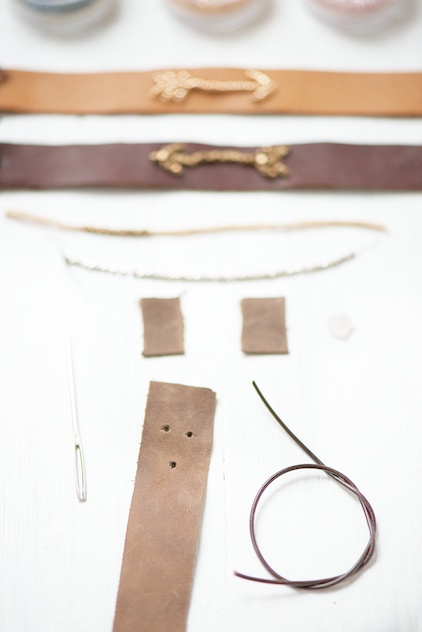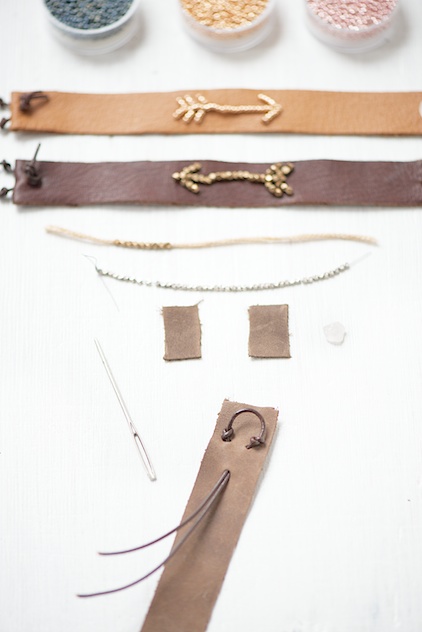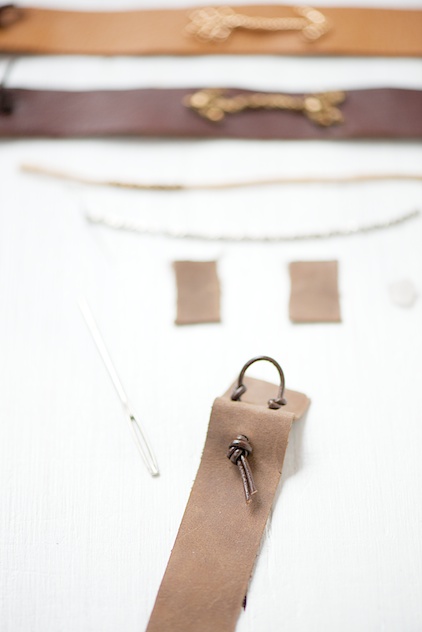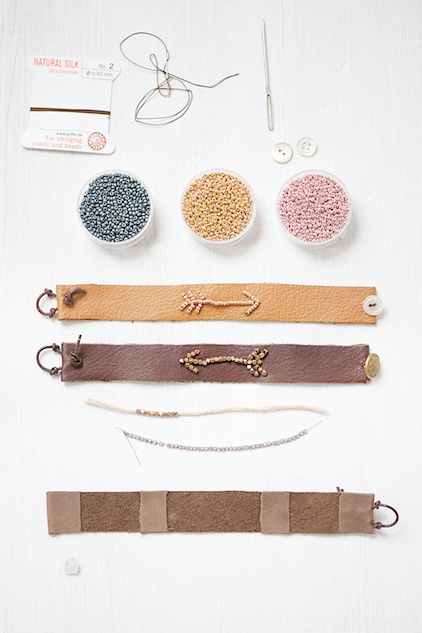 Now take your 2x small 1cm pieces and glue them onto the backside accordingly to the picture to give your bracelet a bit more stability.
Take your button or bead and sew it onto the other side. Create a little "room" between the button and the leather for the leather cord to grip.
I used a vintage brass button on the dark brown bracelet and that button already had room underneath.
I actually love the rose quartz bead the best for the closure. I went up through the bead and then threaded another small bead on top and went back through the rose quartz bead. Can you see it on the picture?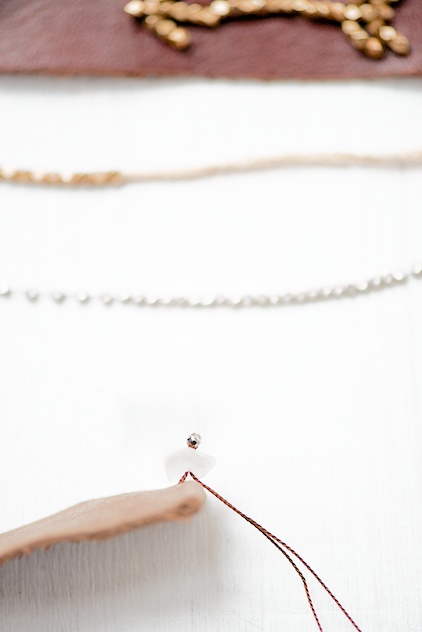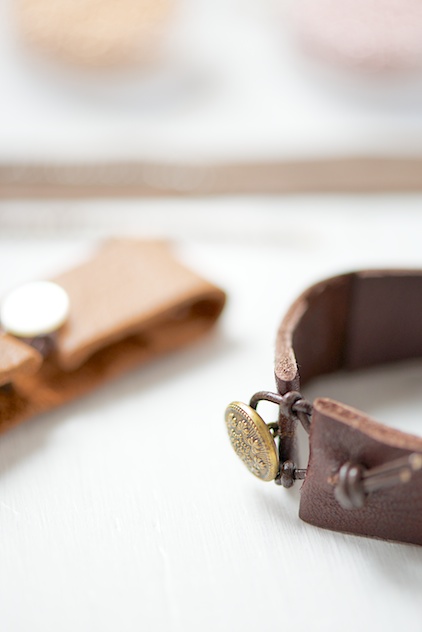 Time to sew on your symbol!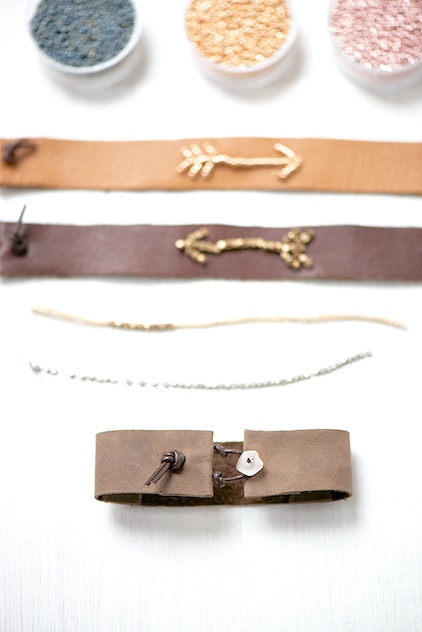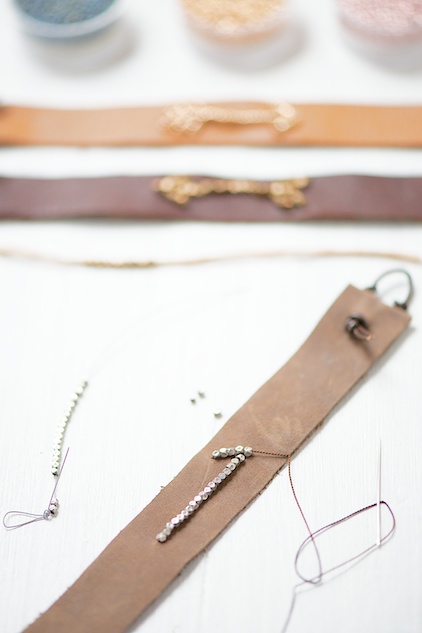 It worked best for me to just do a longer strip of threaded beads than sewing on each single bead. I wasn't able to create a straight line by sewing on each bead or every second or fixing the thread by going across and in-between the beads. Just play a little around and see what works best for you.
Now my beads are kinda loosely but when I wear the bracelet it fits snug around my wrist and makes the beads sit perfectly aligned.
That's it!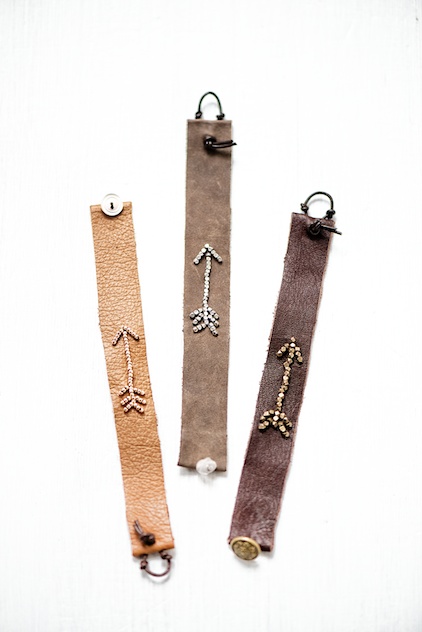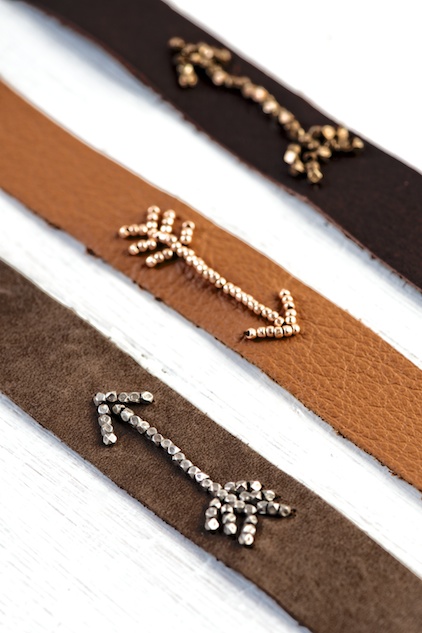 As I said - other designs will work as well - even a simple line of beads looks beautiful - but I really like to look at a powerful symbol like an arrow on my wrist.
Makes me feel energized and focused - aiming right at my goal(s)! :)
Happy Day,
Anette
P.S. An arrow is also a nice symbol for something coming up next month: Valentine's Day!!!
P.S.S it's Creadienstag today...
And...
You can find my rosé-gold jewelry line here in my own shop or my other lines at Etsy and DaWanda
If you like to further connect there is more lebenslustiger on FB, Twitter, Tumblr, Instagram and Pinterest!
Thanks so much!!!
Categories :
DIY
Trackbacks :
13 Trackbacks »