19
06
2012
Day 4 at the Austrian herb farm - in case you missed day 2 , day 3 and the story how it all happened, please read here and here.
Gentle rain is good for the fields - I take a deep breath and lean back. Does that mean we will all have a break from work today because the greens and the soil on the fields will be too wet to work on them???
Of course NOT! There are thousends of other things Maria and Andi have to work on or organize. For example sharpening the tools.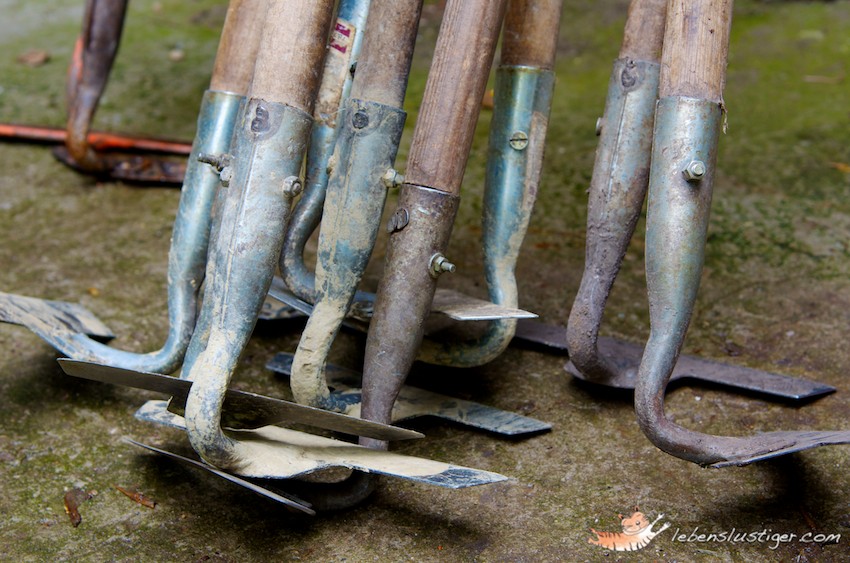 That way they will work even better and faster tomorrow with the weeds. Andi figured out, that the old way of sharpening the metal with a hammer yields much better results than just grinding the edges with a power tool.
He and Maria run a little organic market in the old farmhouse.
They sell all their harvested goods like spelt, kamut, lentils, buckwheat and of course their dried herbs and spices.
Maria shows me her expensive flour mill.
I am impressed by the quality of the fine, silky flour it is able to produce.
The smell of the freshly ground flour is just amazing! Speaking of smell - I wish, you would all be able to smell through the screen and we could really share the unbelievable good aromas from a big field of fenugreek, fennel - or caraway - greens.
Old Maria, Andis' mum, has work for me. With her almost eighty years she weights the orders and puts them into bags.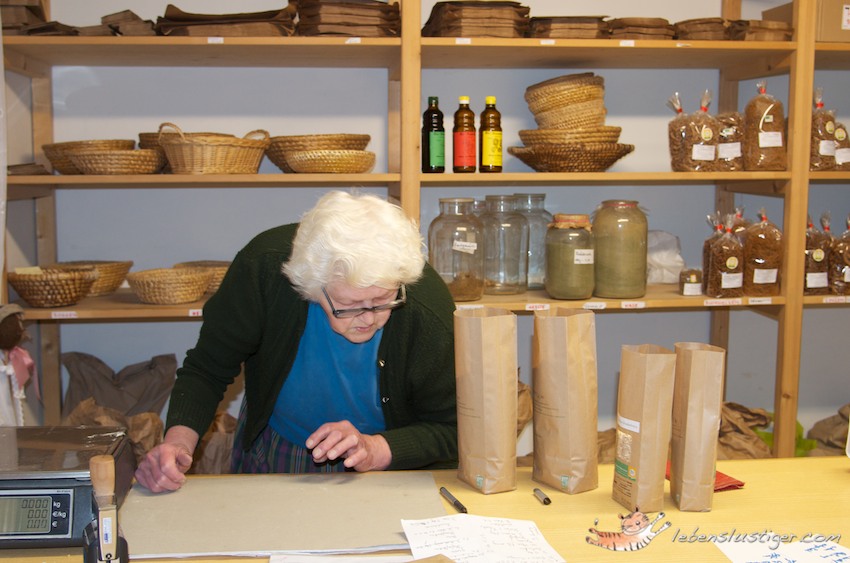 My job is to close those bags and label them.
Old Maria is not too happy with my work..... It has to be made HER way :)
I wait for a good moment and then slip quietly out of the door to see how the little baby cow is doing today. Maria is just feeding it with an milk filled old beer-bottle.
We start joking that a real beer might also be a good idea for someone who has had so much struggle on it's very first days on earth..... To my big surprise and joy i got the honor to name the baby! I think of my daughter Jette, who, thanks God, is so healthy and strong. It will be a good omen for the cute brown-white baby.
Everything will be alright.
Only one day left - stay tuned for day 5!
XOXO, Anette
Trackbacks :
1 Trackback »