02
03
2015
A while ago I wrote in this post that we are looking for new chairs for our round table.
Well - to be correct - it is me who is looking for new chairs - my husband thinks our old chairs made of beech wood are perfectly fine together with our oak table and oak floors.
I am not the kind of design person needing everything to look perfect - I like a good mix and individuality, but somehow I really don't like these two different woods together. Plus the old chairs are so 'solid' in design and take up a lot of room.
So the search started with that Casamania chair. Which turned out to be too low for the table and therefore went to live in our hall.
Then someone mentioned Voga in the comment section.
I was very excited about the low prices and first didn't really realise, that their furniture isn't original. I ordered two different chairs and after a long, long waiting time they finally arrived from Great Britain.
The quality is quite good for the price but I felt bad afterwards supporting the manufactering of copies - especially as being a designer myself.
You would think that I had put special attention on the sitting hight this time? I would think so too.
But I didn't!
Both were too low for the dining table.
Returning them seemed cumbersome plus my daughter fell in love with the tulip chair. She put a sheep skin onto it and sits on her legs. Then the hight is ok...
And I use the DAW chair next to the sofa if the sofa gets to crowed.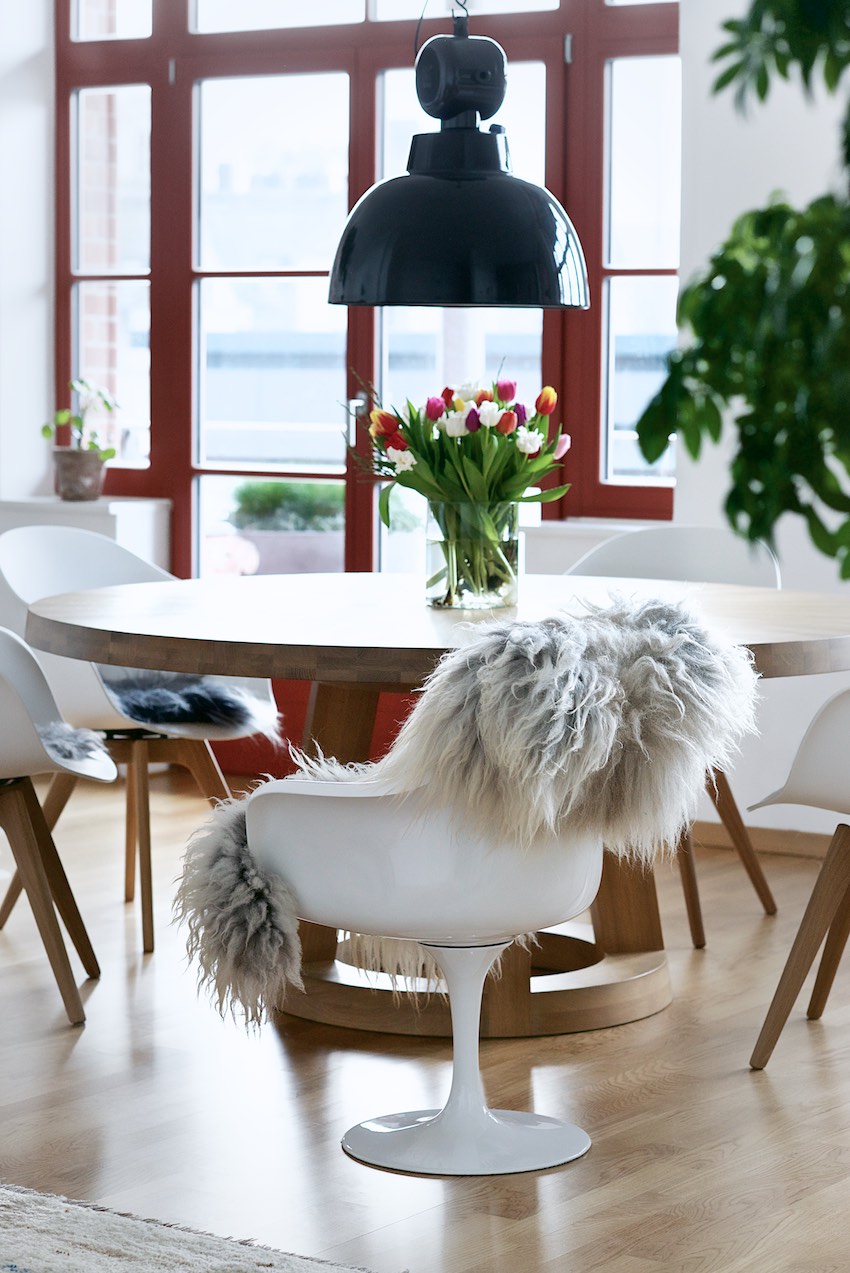 So both chairs stayed.
Then sometime last fall I passed by the BoConcept store in Hannover and went in to check it out.
I liked their Adelaide chair. It has nice oak legs, is not too expensive AND has the right sitting hight. YAY!
So i spontaneously ordered six chairs.
I didn't tell my husband...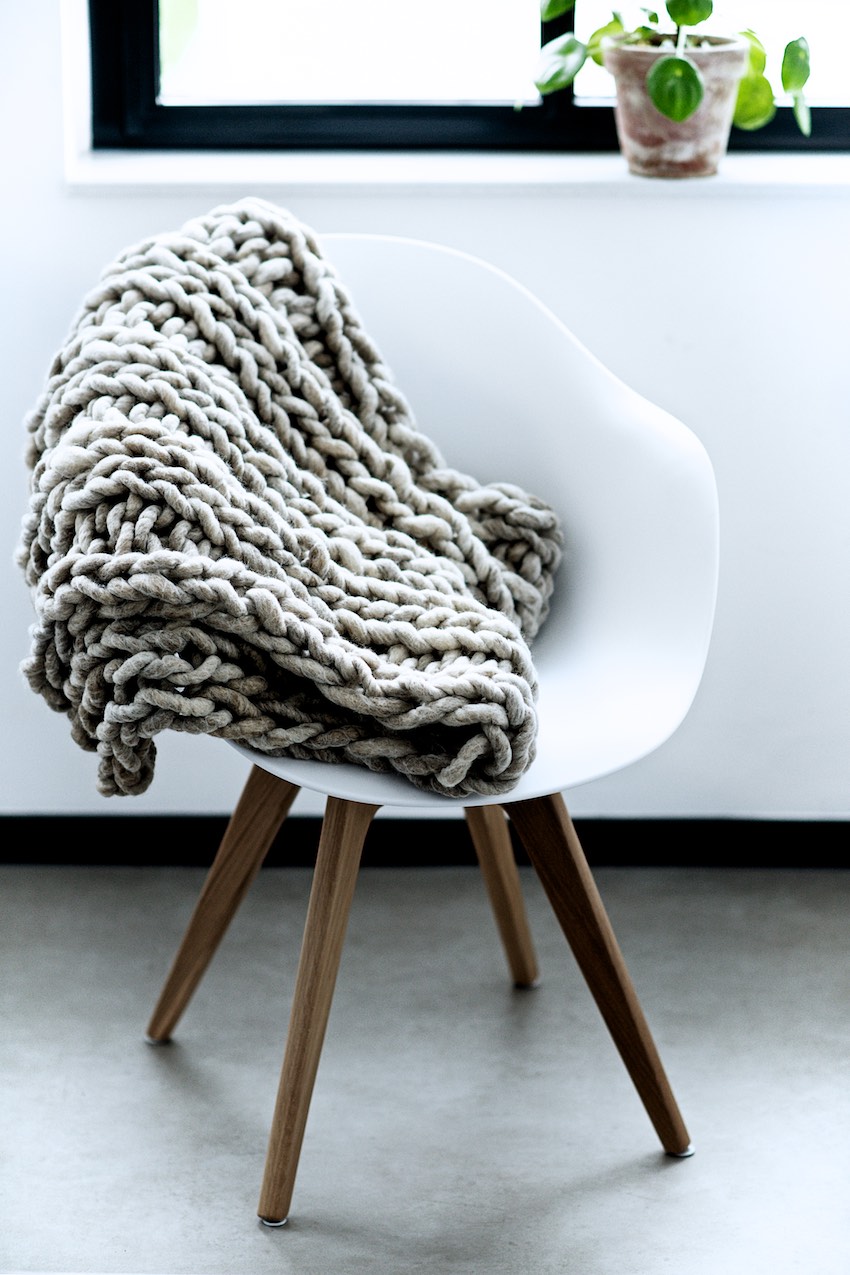 When they arrived in late fall, I stored them in the cellar and just brought one chair up to the apartment and one of the old ones down.
Then I added the next one after a few days...ok - it wasn't too long until things smelled fishy to my husband.
Anyway - eventually he would take a seat
AND
CRASHED
THE
CHAIR!!!
NO JOKE!
It's easy to imaging, how mad he became, right? :)
When I brought the broken chair back to the shop, I could tell by the reaction of the sales persons, that this was not the first broken Adelaide chair they have seen.
Such a pity!
But the other chairs are good so far.
We still keep a couple old chairs at the table for my husband and my son who also likes the old ones better.
Maybe I will paint them white someday...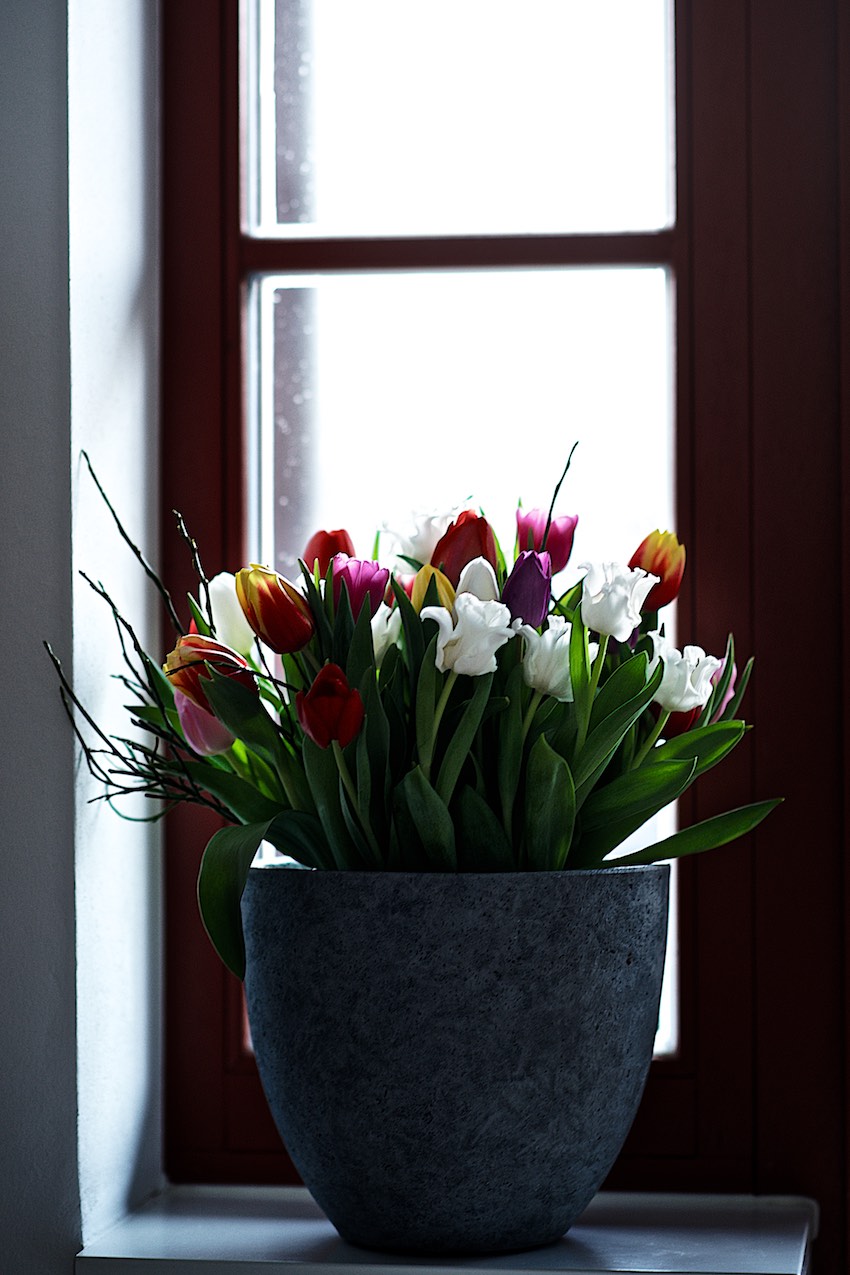 Meanwhile I think it would had made more sense to just take time and find the right chairs instead of settling for several compromises and supposedly good deals.
But that's difficult for me because I love to find and buy new things.
I must admit, I really like the tulip chair now too. But the original one from Knoll. Then it would have the correct sitting hight as well.
It's on sale right now at Connox (here) with green or black cushions.
Still costs a ton even on sale but maybe I could add one each year... :)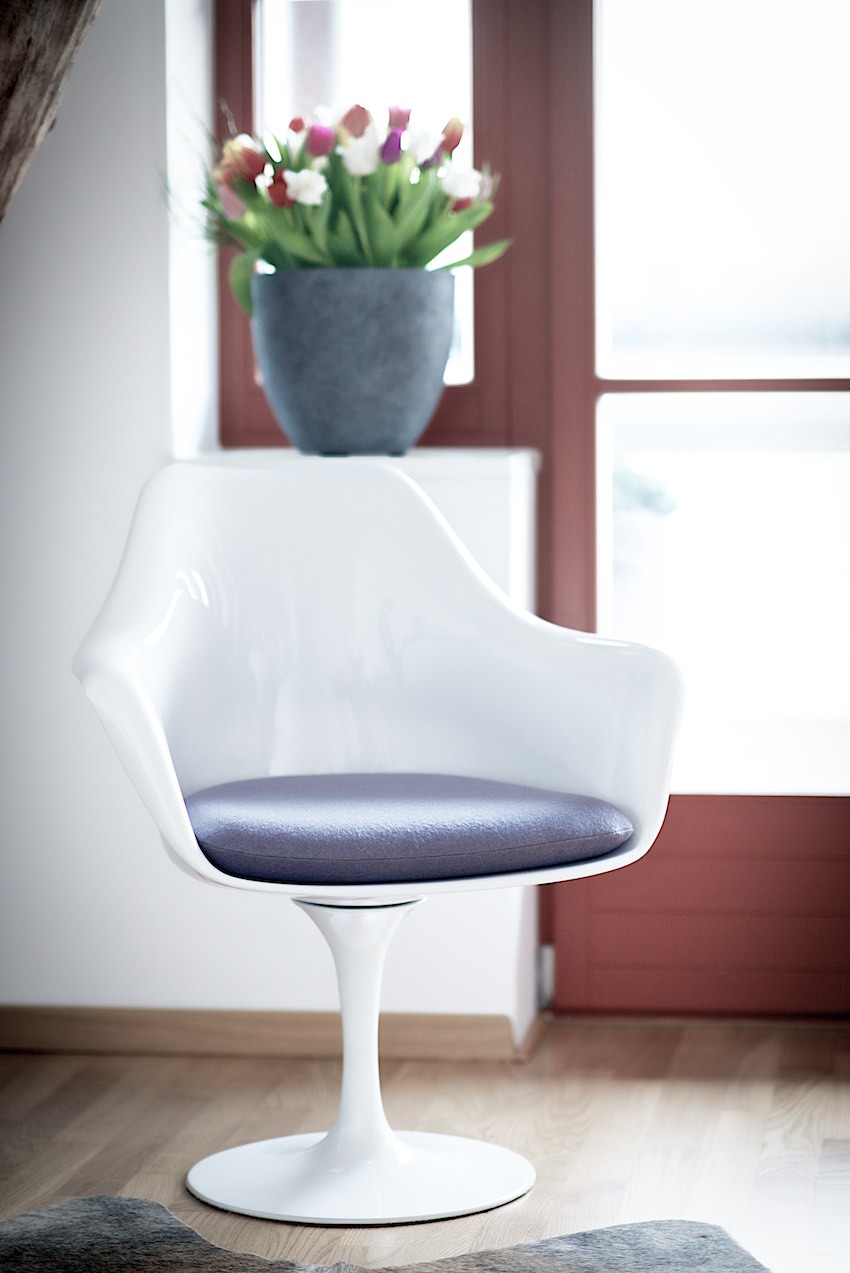 Speaking of taking time and thinking twice before falling for another chair... I - spontaneously - ordered this beautiful Muuto chair in cognac leather for my studio a few weeks ago.
Just got a note that there are problems with the production...
OH MY!!!
Stay tuned.
I'll keep you posted...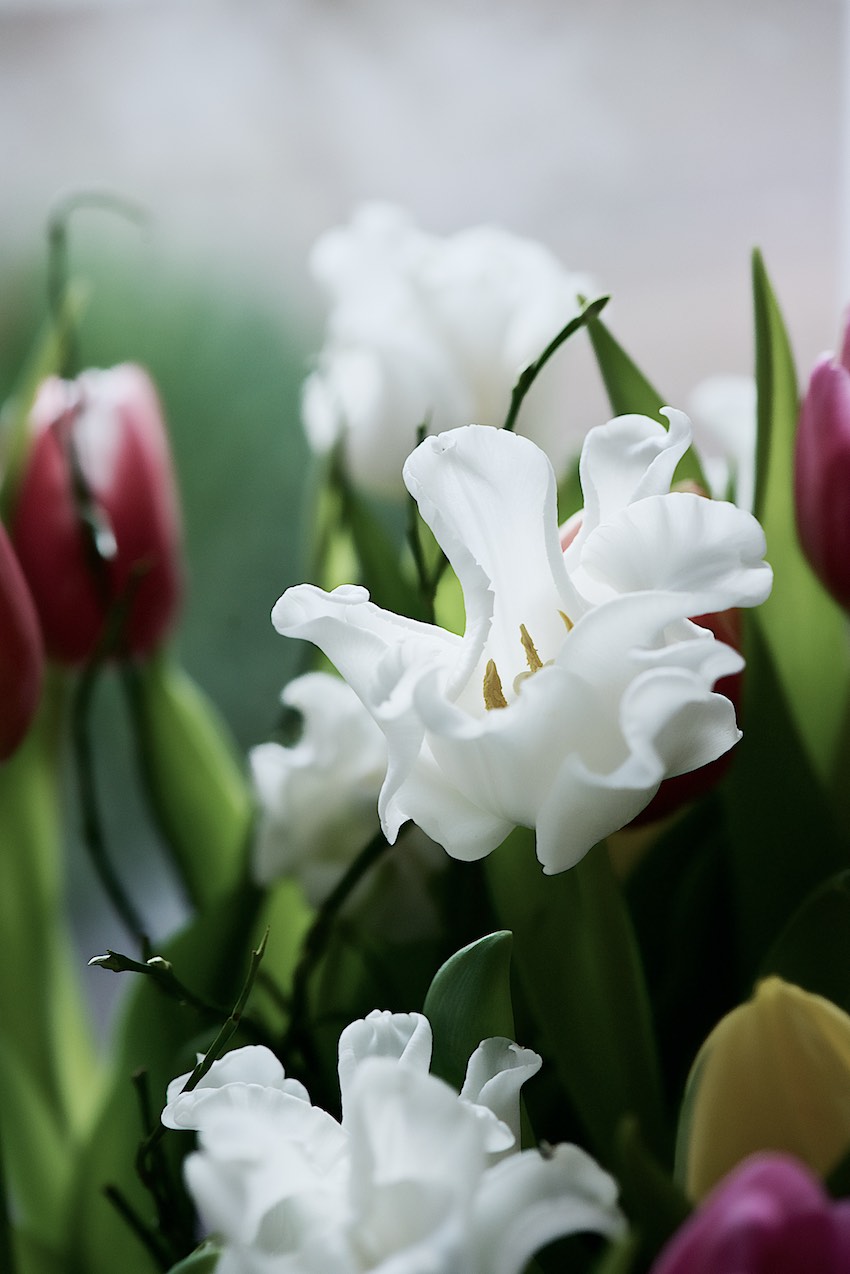 Happy Day,
Anette
P.S. I will send these spring tulips over to MacroMonday
28 Trackbacks »